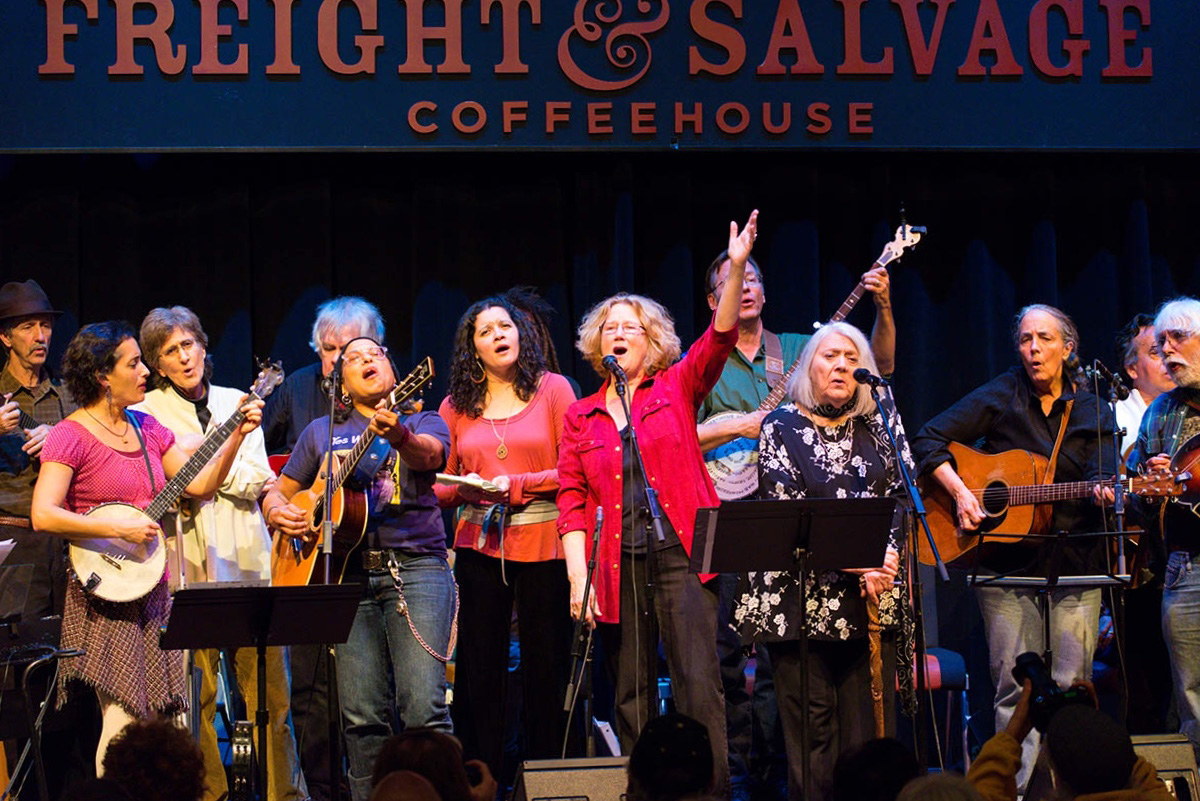 "I do not separate my music from my heart nor do I separate my ideas from my daily life. I open myself up to learning as much as I can about humanity and this mysterious life experience, but I do not relate to political work as a series of 'causes.' Moment by moment, I integrate what I learn into my personal life, personalizing my politics. It is from this personal place that I write my songs." – Holly Near
Singing with Us, and for Us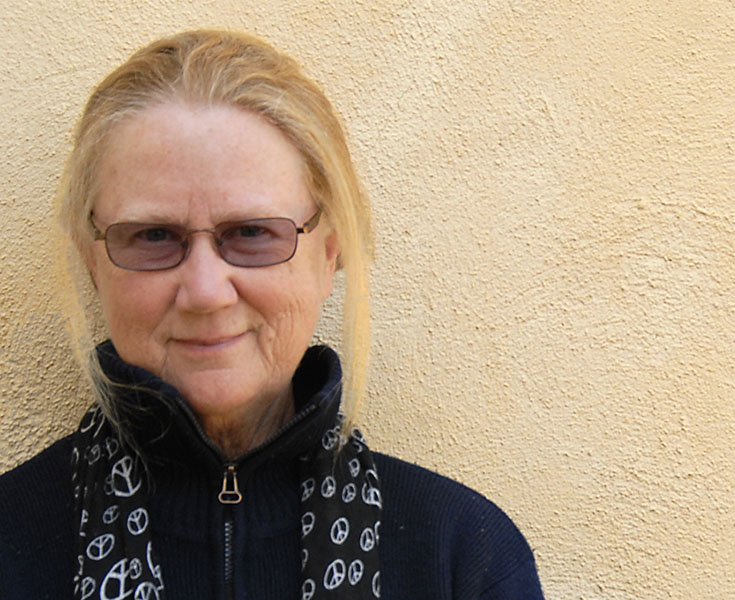 An interview in The Progressive with musician and activist Holly Near.
by David Kupfer
Published: February 24, 2023
Read online.
One of the trusted publications. If you wish to subscribe click here.
Holly Near has had an amazing, exemplary life of artistry, performance, songwriting, and activism. The arc of her professional life has spanned more than five decades in a most unique fashion, singing for a more peaceful, equitable, just, and feminist world. Through her music, she has been an insightful storyteller, consistently committed to keeping her work rooted in contemporary activism. Respected around the world for her music and activism, Near has released more than thirty albums and performed in many countries.
Near was born in 1949 in Ukiah, California, into a family that encouraged creativity. At age twenty-three, a half-century ago, she wrote her first feminist song, "It's More Important To Me." About the same time, she started Redwood Records to support the release of her first album, Hang In There. Near was one of the first women to create an independent record company, paving the way for others in what had been a completely male-dominated industry.
Throughout her adult life, Near has worked and associated with an incredible array of musicians and artists. She has been recognized many times for her lifelong work promoting social change, including with honors from the American Civil Liberties Union, the National Lawyers Guild, the National Organization for Women, and the National Academy of Recording Arts and Sciences, Ms. magazine, and the Legends of Women's Music Award.
Q: You've had a particularly challenging year, health-wise. Can you share that journey with us?
Holly Near: Earlier in 2022, I slipped on some ice while back East, broke my arm, dislocated my shoulder, and had surgery. After that, I decided to come back West to heal and had my timely colonoscopy. The colonoscopy did not reveal any problems in my colon, but it indicated that I had a rare form of anal cancer: squamous cell carcinoma.
The treatment recommended was radiation and a dose of chemo to make cells more likely to respond to radiation. A five-week run was prescribed. The doctors gave me a full-blast treatment because they only have one shot at it. That was really rough, it brought me to my knees. In the midst of the treatment, the radiation left fractures in my pelvic bone, which required me to walk with a cane as it healed.
Q: What happened then?
Near: In the middle of the treatment, apparently unrelated, I had a small stroke. I found myself on the phone with my niece, and then her mom, Krissy. I'm not sure how that happened, but I was talking without forming words. Krissy said, "Holly, you are having a stroke. Call 9-1-1."
Once home, the family kicked in and did round-the-clock care until I passed the danger zone of having another more massive stroke. The doctors ordered a heart monitor for thirty days so they could see if there were any abnormalities. Apparently not. But my heart got radiation during my first bout with cancer in 2014, so I must now consciously maintain a healthy heart. I don't recall anyone telling me that at the time.
Q: How are you feeling today?
Near: I am, as of this moment, cancer-free. It is gone. It will be many months to recover psychologically since the brain has been on "danger, danger" alert with regard to the treatment. PTSD is not unusual. The doctors say I have about a year of recovery and healing in front of me before I return to my old self. But that is not true. I will never return to my old self. That year is gone. It took its toll. The job now is to heal my spirit and accept the new me. This may not be how I imagined my seventy-third year to be, but this is what it is, and it's best to work with the reality that I'm healing. I am getting stronger.
So it has been a rough 2022. The body is amazing and the spirit even more so, and, thankfully, I am still upright. With the pandemic and semi-retirement from major touring and recording, I find myself asking, "Who am I and what is my purpose in life now?" My life since I was a teenager has been so directed. The goal now is to embrace the clean slate before me and be patient enough to see what comes next. My dad died of an aneurysm when he was my age. My mother died when she was in her late eighties.
Q: What was your parents' background and their influence on you?
Near: Russell, my father, was from Beach, North Dakota. During the Great Depression, he and his family moved to Minneapolis, and then on to Southern California. He was a party boy and liked to go dancing on Catalina Island. His grandmother Maria Peek had been a socialist and a suffragist, and his great-grandfather Frederic Near a soldier in the Civil War, with red hair and a long, red beard.
Anne, my mother, was raised on Park Avenue in New York City. Her parents, Artemas "Judge" and Dorothy Holmes, were members of the Social Register, and made their money in Street & Smith Publishing. Mom and her twin sister, Ruth, went to Miss Chapin's School for Girls, and had coming-out parties, which would mean something quite different to them than my coming-out party would mean to me.
Mom didn't feel at home in the world of high society, so after she graduated from Bennington College, she taught fifth grade at the Professional Children's School on Broadway in Manhattan, spent time at the Catholic Worker on Mott Street, where she got some of her political education, and attended Commonwealth College in Arkansas—where Lee Hays was on the staff—with the hope of finding out more about the world. Hays later became one of The Weavers. Later, Mom worked with the New Theater in Philadelphia, which put on skits for union meetings and performed plays by Marc Blitzstein and Clifford Odets. She swept floors and pulled curtains. Then she headed for Los Angeles, where she got a job as an electrician at North American Aviation.
There, she met and married Russell, who was a grievance committee man for the union. They were trying to get child care for the new female work force that had come to make airplanes for the war effort. My sister Timothy was born. The bombs were dropped on Hiroshima and Nagasaki, leading my parents to question their continued participation in the war effort. There was no doubt in their minds that they wanted to fight fascism, but killing 30,000 Japanese people in a weapons experiment was genocide.
When more middle-of-the-road leadership took power, Dad lost his job. In search of creative work, they moved north to a ranch in Potter Valley, a small town in Mendocino County, [California]. They had three more kids, started a play school, joined the PTA, and learned how political activism worked in a rural town. There were no unions to organize, but they worked to get corporal punishment abolished in the school system. I can't say we were red-diaper babies, it was more as if a red shirt had accidentally gotten thrown in the wash with the whites.
Q: What was their involvement with Redwood Records?
Near: Redwood Records really started out as a family affair. My parents agreed to be the "home office." My dad set up some simple bookkeeping for us, and Mom set up a system for packing and shipping, then worked handling distributor and individual mail orders for albums, and ran the public relations department. She was good at it, efficient and persistent. She even had to deal with marriage proposals that came in to me through the mail, from women! This was around 1975, when an article about me appeared in People magazine where I came out as a lesbian. The next day, my mother went into downtown Ukiah and walked around, in case anyone had any problem with this. Damn, she was a great woman.
Q: You and Ronnie Gilbert had an especially close friendship and professional alliance. I believe you were personally responsible for helping her have a renaissance in her own musical career in her later years. How did you come about meeting and then working with her?
Near: I first saw Ronnie perform when I was ten years old in San Francisco. Before I actually met her, I dedicated my 1974 album, A Live Album, to her. As she later shared the story, her daughter, Lisa, phoned her and asked, "Mom, do you know a singer named Holly Near?" She didn't. "Well, she's dedicated an album to you."
Ronnie put off listening to the record. She decided to clean the house while she listened, so as to ease the boredom she had already decided she would feel. She didn't much like what the folk world of the sixties had produced and preferred the company of theater people. Several hours later, the house was untouched by broom and mop, Ronnie had laughed and cried and played the songs again and again. Something felt different about this music, she told me later.
Soon after, she came to visit me in Ukiah, en route to Canada, where she was living and working with a theater company. Ronnie spent the day with me and my folks. I tempted fate as I sat at the piano and pulled out a few old folk songs. She hummed along but didn't really sing. I didn't push it, but as she left, I told her about a women's music festival that she would drive past as she headed north. She did stop and was astounded by what she saw and heard. We became pals, and then in 1980, a Weavers reunion concert and film were in the works, called Wasn't That a Time, which I ended up appearing and singing in.
In 1983, Ronnie and I developed a show singing together as a duo that went on a national tour. The concert halls filled with people who crossed generations, cultures, and lifestyle boundaries. Children brought parents to introduce them to Holly Near. Elders brought their children to introduce them to Ronnie Gilbert. Four generations of women came together. Red-diaper babies sat next to upwardly mobile liberals, sometimes they were the same. We were in the midst of a unique, unforgettable coming together of past, present, and future. We subsequently produced for Redwood Records a live album together from those shows, called Lifeline, and two years later, in 1986, we released Singing With You.
Ronnie and I worked with pianist/arranger Jeff Langley, with whom I went to high school and later worked with for a dozen years, writing so many songs together. He recently died and I miss him. He helped us create unique harmonies that stretched beyond simple folk lines. I usually sang melody, so I have to hand it to Ronnie. She learned and carried those harmonies like it was nothing. Jeff knew he was working with two big voices, theatrically trained entertainers, and knew how to get the most out of us. It was great, a powerful reflection of generations of social activism.
We joined Pete Seeger and Arlo Guthrie on a multi-city tour, and Redwood Records released a live album, HARP, recorded at the Universal Amphitheater in Los Angeles. It was an unusual collaboration. Pete and Arlo worked together fairly regularly as did Ronnie and I, but the four of us were not an easy fit. Ronnie and I were big theatrical performers, Pete and Arlo more laid back, but we found a nice balance. It was a hell of a good show.
Q: Can you tell me about the archive you just produced this past December, "Because of a Song"?
Near: "Because of a Song" is an online archive I created that documents the extraordinary feminist and lesbian music that burst forth from the heart of Oakland, California, forty years ago. "Because of a Song" features more than thirty hours of filmed conversation, four short films featuring Linda Tillery, Carolyn Brandy, Mary Watkins, and Melanie DeMore, a curated resource room, a listening room of more than 600 songs in six playlists, a captioned photo gallery of nearly 200 images, and much more. No story is the whole story, we simply leave a trail. The world has always been, and continues to be, changed because of a song!
Q: What are you listening to these days? What is your assessment on the current state and health of the folk music movement?
Near: Music is very personal, so I never make recommendations. However, many people have expressed frustration, asking, "Where is the next generation of political songwriters?" Or, "Why aren't there any political singers?" To find them one must be willing to look around, listen to people unfamiliar to the ear, take some risk.
In any given recording, artists might present fifteen political songs, or two. For example, in my own work, if someone heard that I was a political artist and bought my recording Crushed!: The Love Song Collection, they might be misled. It is important not to make assumptions about artists. We are a wild bunch who, if we are any good at all, experiment and stretch and adventure away from any given stereotype.
The suggestions found in the listening room of the "Because of a Song" website are windows to what I hope will be some delightful discoveries for you. And this is just a drop in the bucket. Feel free to send in the name of your favorite social change artist!
Q: What's been your life philosophy?
Near: I have not separated my music from my heart, nor do I separate my ideals from my daily life. I have opened myself up to learning as much as I can about humanity, this mysterious life experience, but I have not related to political work as this list of "causes." Moment by moment, I have integrated what I have learned into my personal life, personalizing my politics. It has been from this personal place that I have written my songs. And what greater work is there than the art of creation? Life is an immense mural that requires each of us to pick up the brush and paint a bold stroke.
David Kupfer is a San Francisco-born writer whose work has appeared in numerous publications, including The Sun, Bay Nature, Earth Island International Journal, Yes, and, for the past 30 years, The Progressive.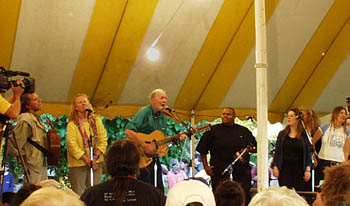 Where is the music?
Music is very personal so I never make recommendations. However, many people have expressed frustration asking, "Where is the next generation of political songwriters?" or "Why aren't there any political singers?". To find them one must be willing to look around, listen to people unfamiliar to the ear, take some risk.
In any given recording artists might present 15 political songs, or two. For example, in my own work, if someone heard that I was a political artist and bought Crushed: The Love Song Collection, they might feel misled. So, it is important not to make assumptions about artists. We are a wild bunch who, if we are any good at all, experiment and stretch and adventure away from any given stereotype. Yet the suggestions below are windows to what I hope will be some delightful discoveries for you. And this is just a drop in the bucket. Feel free to send in the name of your favorite social change artist. Criteria: They must have accessible recordings.  We will start an international list as well. I am not going to screen the suggestions, so readers, you are on your own.  I hope that people making submissions will do so with discretion.  Where is the music? It is everywhere.
In no particular order:
United States (and possibly some Canadians)
Bernice Johnson Reagon
Pete Seeger
Buffy Sainte-Marie
Nobuko
Sweet Honey in The Rock
Ulali
Toshi Reagon
Ember Swift
Pamela Means
Copper Wimmin
Ferron
Joe Jencks
emma's revolution (Pat Humphries/Sandy O)
Wishing Chair
Nedra Johnson
Melanie deMore
Cris Williamson
John McCutcheon
Linda Tillery and The Cultural Heritage Choir
Tao Rodriguez-Seeger and The Mammals
Arlo Guthrie and family
Liche Fuentes
Rhiannon
Ronnie Gilbert
Cheryl Wheeler
Peggy Seeger
Laura Love
Deidre McCalla
Jennifer Berezan
Betty
MUSE (women's chorus in Cincinnati, Ohio)
Peter Paul and Mary
Steve Earle
Tish Hinojosa
Larry Long
Alice Gerrard
Bill Staines
David Roth
Peter Alsop
Mary Watkins
Rafael Manriquez
Elise Witt
Betsy Rose
Gary Lapow
Gerry Tenney
Bonnie Lockhart
Jon Fromer
Tom Chapin
Guy Davis
Cosy Sharidan
Bob Franke
Dar Williams
Ani DiFranco
Eliza Gilkyson
Lowen and Navarro
The Kennedys
Keb' Mo'
Kim and Reggie Harris
Zoe Lewis
Beverly Grant
Rosalli Sorrels
Sloan Wainwright
Tret Fure
Magpie
The Klezmatics
Cathy Fink and Marcy Marxer
Faith Petric
Lil' Rev
Greg Brown
Tom Waits
Anne Hills
Hazel Dickens
Indigo Girls
Janis Ian
Joan Baez
Kate Campbell
Libby Roderick
Jaimie Anderson
Ubaka Hill
John Trudell (spoken word)
Ellis Paul
Vance Gilbert
Christine Lavin
Catie Curtis
The Dance Brigade (no recordings but go see them!)
Leonard Cohen
Bill Steele
Jackson Browne
Judy Collins
Lucy Kaplansky
Sara Thomsen
Amy Martin
Tracy Grammer
Garnet Rogers
David Rovics
Richie Havens
Peter Donnelly
Dangerous Folk
Radio Free Earth
Linq
Mary Wheelan
Kate Long
James Durst
The Work o' the Weavers
Ron Romanovsky
Four Bitchin' Babes
Dave Lippman
Lynn Frances Anderson
Colleen Kattau
José "Pepo" Saavedra
Carrrie Newcomer
Neil Young
Prince Myshkins
SONiA (yes spelled like that)
Llajtasuyo
Chestnut Brothers
Kuumba Lynx
Charlie King and Karen Brandow
Francisco Herrera
Andrew McKnight
Big Wide Grin
Bruce Kunkel
Rod MacDonald
Freebo
John Batdorf
Randall Williams
Ted Warmbrand
Georges Lammam
Karl Anthony
Michael Franti and Spearhead
Girlyman
Arjuna Griest
Melissa Crabtree
Rachael Kilgour
Green and Root
Eileen Hazel
Tracy Chapman
Bill Miller
Joanne Shenandoah
Bright Eyes
Faith Nolan
Joe Glazer
Si Kahn
Fred Small
Anne Feeney
Mark Erelli
Nanci Griffith
Bonnie Raitt
John Flynn
Country Joe McDonald
Joe Uehlein
INTERNATIONAL
Just to get this list started:
Inti Illimani
Eduardo Peralta (Chile)
Ladysmith Black Mombaza (South Africa)
Youssou N'dour (Senegal)
Roy Brown (Puerto Rico)
Quilapayun (Europe/Chile)
Silvio Rodgriquez (Cuba)
Judy Small (Australia)
Tom Robinson (England)
Bruce Cockburn (Canada)
Billy Bragg (Ireland)
Eric Bogle (Australia)
Yungchen Lhamo (Tibet)
The No Shit Shirleys (Vancouver BC)
Sara Gonzales (Cuba)
Simone Shaheen (USA/Near East)
Marcel Khalife (Lebanon)
Tommy Sands (Ireland)
COMIC AND SPOKEN WORD
Kate Clinton
Lily Tomlin
Dick Gregory
Alix Olson
A SALUTE TO THOSE WHO HAVE MOVED OUT OF SIGHT, BUT NOT OUT OF MIND
Mercedes Sosa (Argentina)
Nina Simone
Woody Guthrie
Freida Epstein
Phil Ochs
Kaye Gardner
June Jordon
Ossie Davis
Marion Anderson
Lee Hayes
Victor Jara
Pablo Cassals
Pablo Naruda
Paul Robeson
Odetta
Utah Phillips
Miriam Makeba
In December 2009, as part of her sabbatical year, Holly visited Argentina and Chile. She not only wanted to be a tourist, she also wanted to catch up with friends and visit some of the EPES Centers in Chile that her friend Karen Anderson co-founded.
As we all know, Chile was devastated by a magnitude 8.8 earthquake in the early morning of February 27, 2010. Holly was on the coast with friends and later that morning was able to reach Santiago.
From Holly
In the spring of 2010, I was visiting friends in Chile when the country experienced a major earthquake. Fortunately, I was north of the area most hard hit.  However, the friends I was visiting work with a health care organization in Concepcíon, one of the most devastated areas. The people they serve, already poor and for the most part ignored by government assistance, now struggle to recover not only from the earthquake but from a change of government that took place immediately following the earthquake. And perhaps the most frightening is the coming of winter in Chile before houses have been rebuilt and supplies are still slim. I am moved by the level of community organizing that is going on despite the extraordinary hardship.
Open Letter to La Peña https://lapena.org/
Sent to La Peña on the occasion of a fundraising event to benefit the earthquake survivors in Chile.
March 3, 2010
I wish I could join La Peña's musical gathering on behalf of Chile but I am in Santiago.
I will try to share an update as things are changing by the hour. Communication has been difficult. There are close to 800 confirmed casualties and still thousands are missing. Many places, even in Santiago, are still without electricity, gas, water, food, shelter, cell phones or internet. Roads are damaged. The worst hit is Concepcíon and the nearby coastal towns and villages that not only experienced the earthquake but also the tsunami waves that followed.
However, little by little the country is catching up to the size of the disaster. Dozens of trucks are getting through with supplies, neighboring nations are donating field hospitals, doctors are arriving from Cuba, and satellite phone systems are being installed. I'm sure to those who are suffering, it does not feel like enough. But it is a beginning. We are heading into fall and soon it will be winter so the process must move quickly. The material damage is unimaginable, especially since so many of the towns were extremely poor to begin with. People's homes and livelihoods have been destroyed and the number of people living in shelters is estimated at 2 million.
A week before the earthquake, I was actually in Concepcíon visiting a health organization called EPES (Educacíon Popular en Salud). I am friends with Karen Anderson, one of the co-founders, and I was being shown the new building as well as seeing some of the health education training they initiate. We were also taking a short vacation and traveled farther south.
Now a little over a week later, they are all in grave trouble. We finally heard that most are accounted for. An EPES team from Santiago which includes Karen just borrowed a pickup truck from Maryknoll and is heading south to take supplies and evaluate the situation in order to be of better use. We have heard from the main coordinator of the EPES health team, that the new building is still standing though everything was hurled to the floor. He has been able to dig down and reach a well behind the building and supply water to 150 people who live in the community surrounding the EPES compound.
The frontline is of course the survivors of the earthquake. Then there are of course the major disaster relief organizations which include the government, Red Cross etc. In addition to these two essential components are corporations and private companies that will move in to build housing. These homes will be welcome but it is important for people who live in the area to have some say about how this is done.
This is where the next level of support comes in. There are the organizations that already have long-standing relations with these communities and they will be working to find ways to offer the most essential and long-term support.
EPES is such an organization. It trains the poor and under-represented communities so they are empowered to have their own voice and manage their own lives. They will be putting together an assistance program not only to bring supplies but also to train and support organizers so they can begin to rebuild and have some control over how the rebuilding is done.
And finally, there are people like you and me in the international solidarity community. Our first responsibility is to get money to responsible organizations. I'm sure many of you have organizations you trust.
On The Personal Side
This is the end of summer vacation here in Chile. I was visiting my friend Judy at the beach in Quisco when the quake hit. Judy and I ran out of the house. Two elder people in the home chose to stay in bed for fear of falling. The shaking went on for a long time and then it was calm. There weren't many people in the streets and since earthquakes are common in Chile – as they are in California, we went back to bed. Then the aftershocks began so we got up. As dawn came on I began to worry about the possibility of a tsunami. I kept an eye on the sea as we tried to figure out what to do. In hindsight, I am profoundly grateful to be alive. Not too far south of where we were, towns were being washed out to sea.
We had one small battery-operated radio that could only find a little station in Argentina and they had very little news. I began to understand how serious this might be in other places if all of the Santiago radio stations had stopped broadcasting. We had lost electricity, phones and internet. I learned later that my friends and family were seeing the size of the catastrophe on television in the states long before I was and they had no idea whether or not I was still in Concepcíon. Judy and I decided to try to return to Santiago. On the drive there, I got about 10 minutes of internet on my laptop and I was able to get a message through that Judy and I were fine.
This was a huge earthquake. I have never felt anything like it. It felt almost lateral. Eventually we began to get news. We heard that President Michelle Bachelet had immediately gone alone in the night to her office to try and find out who was being affected. No one could have imagined what she would find.
Yes, there is criticism of how long it took the government to act. I don't know. I wasn't there. I know that Chile is days away from transitioning from President Bachelet (who termed out) to President Elect Pinera, the conservative candidate who recently won the election.
Form where I stand, the one thing we can learn is to look at our own towns. Are we ready for disasters beyond our wildest imaginations? Do we have agreements with our supermarkets that in the event of a crisis they become distribution centers answerable to emergency response teams, to be reimbursed at cost another time? In Chile this would have helped to avert some of the violence. Parents were desperate to get milk, bread, water, diapers etc. for their children.
It is a sad, complex and terrible tragedy here. Santiago is relatively quiet and the metro is running so some people are starting to go back to work. The long lines at gas stations and grocery stores (we stood in line for 2 hours on Monday to pay for our supplies) have shortened. However, it is difficult to get an accurate picture of what is really happening.
People feel helpless; not sure what to do. It is not easy to get to Concepcíon to help and now the military are moving in to try and stop the violence. It gets more complex every day. People who lived under Pinochet do not like the idea of a "state of siege." A general who used that terms was highly criticized by the administration, which tried to assure the people that "…this is not a war, this is a state of catastrophe. The soldiers are here to restore public order, different from being at war with your people."
Soon I will return to the U.S. I can be of more use helping to fundraise than I can sitting here feeling frustrated. The airport is not open yet so we shall see.
Hello to Chile Solidarity!
Holly Near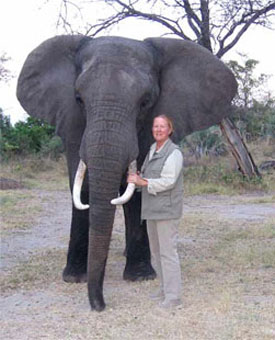 Art & Activism: Trip to Botswana
In September 2005, I participated in a very powerful journey to Botswana in Africa. I have fallen in love with the Kalahari Desert and all that lives in balance in this huge land. Although there is great attention to the conservation of the land and wild life, there seems to be an orchestrated attempt to see that The Bushmen, who are an essential part of that balance, be relocated and consequently their traditional knowledge and well-being destroyed. It seems absolutely clear to me now that the government should support traditional life communities and immediately close down the costly, dangerous and degrading relocation camps.
Purpose of Trip
In September 2005, I participated in a very powerful journey to Botswana in Africa. I fell in love with the Kalahari Desert and all that lives in balance in this huge land. Although there is great attention to the conservation of the land and wild life, there seems to be an orchestrated attempt to see that The Bushmen, who are an essential part of that balance, be relocated and consequently their traditional knowledge and well-being may be destroyed.
Gloria Steinem (Author/Founder, Ms. Magazine) and Rebecca Adamson (Founder, First Nations) invited me and several other friends to go with them on a trip to Botswana. Our itinerary included a safari on the Kalahari Desert and the chance to meet two of their friends, Roy Sesana and Jumanda Gakelebone. These men are Bushmen who generously introduced us to the wonders of the desert as well as taught us about the ancient traditions still practiced by the Bushmen. (I just read that Roy Sesana has recently received The 2005 Right Livelihood Award for his work to preserve his people and culture!)
As it turns out, we arrived during a very complex time. The Bushmen are taking the Botswana government to court on a land claim and the government is behaving in a shocking and abusive manner.
The government has moved Bushmen into relocation camps. Some communities are holding out on the desert but their water has been cut off, and their radios for communication with their lawyer confiscated. In a recent attempt to get food and water in to the people, 28 were arrested, including our friends Roy and Jumanda.
The situation is very bad now. Of course, news like this is bad regardless. But somehow, when one has just sat around the fire, told stories, shared songs and dances, and laughed with people, it becomes very personal. This case is important to indigenous land claims all over the world. And the immediate human rights issues cry out for global support and attention.
Start with reading astute observations (next header) from one of my travel mates, Abigail Disney.
In the >photo gallery you will see pictures of the desert and of a few of the many beautiful animals we saw. There are pictures of our visit with Bushmen in the relocation camps. There are much happier pictures of us with a Bushman community that is living traditionally.
The Botswana government seems determined to destroy the culture and the way of life of The Bushmen. It is on the point of changing the country's constitution to remove existing protection for the San Bushmen. These camps are sites of misery, boredom, unemployment, alcoholism and AIDS (37 Bushmen in just one of these camps now have HIV/AIDS.)
We had an opportunity to spend a few days with The Bushmen who are living on a private farm, protected by the farmer. They maintain their traditional way of life. They care for themselves in a non-violent and community manner. They have immense knowledge of herbs and medicinal plants. They make wonderful art and jewelry. They showed us how they gathered plants, cooked food, and made jewelry. They sang us wonderful songs and showed us a melon dance where they toss the melon, each with their own signature toss.
But they could not do this if they had been relocated and put in camps where they have no access to their traditions, most of which require living in balance with the land and the animals.
As I flew over the desert which goes on and on for thousands of miles, I could see no reason except historic disdain and racism that the government would want to destroy these people and their way of life. Oh, yes, well there is De Beers diamonds!
The San Bushman are global family. The Land Rights Fund describes the situation like this:
The San Bushmen cause is a unique one: according to many geneticists and most ethnologists, not only do the San Bushmen of southern Africa's Kalahari represent the oldest living culture on earth (estimated to be as ancient as 70,000 years old), but we all share a common DNA with them, making the Bushmen our oldest living ancestors. San Bushman culture is non-violent, actively promotes gender equality and centers around healing – whether through traditional medicines or the use of trance. Hunters, gatherers and in some cases herders, the Bushmen traditionally require little to take care of their daily needs and are widely known by anthropologists and ecologists to be acutely aware of the fragility of the natural environment: true caretakers of the earth, in other words. However, in most of Southern Africa, but especially in Botswana, they are being dispossessed at an alarming rate, mostly due to diamond mining, cattle ranching and the establishment of game parks – a process that Amnesty International has called a "cultural genocide."
Now it appears to be more than cultural. The government is making it impossible for these people to live. It has become a life and death issue. Botswana holds proud its reputation as a democracy in Africa. But they are about to participate in what may become genocide.
Here is the good news. The powerful women who were on our journey, along with human rights organizations and land rights groups and tourism companies are joining together to shine light on this part of the world. Criticism has been expressed, meetings have been requested, negotiated settlements proposed, and it looks like there is some receptivity. We want to encourage this.
Mostly I want to impress upon you how deeply moved I was by The Bushmen. They hold, precariously, ancient wisdom and global ancestry. May we in our collective heart, our belief in hope through activism, have an effect on this current situation.
Observations: Abigail Disney
Abigail Disney was one of my travel mates. We often talked into the night about the children we love, the music that moves us, the ideas that inspire us. She was great at spotting birds, I was good at spotting the hoofed creatures. We shared the thrill of being on the desert and we fell in love with the people we met, the people who could dig down below what seemed like a dry brittle bush and find with joy, a potato rich with nutrients and full of thirst quenching moisture. I so appreciate the way in which Abby has compiled what we learned on this trip.
Abigail writes:
The reasons the government gives for forcibly removing (emphasis on the word "forcibly"–some have been beaten, one killed, all have been bullied in a variety of ways) seems to shift with the wind, and we all know from experience that shifting justifications are usually an indications that there's another agenda in there, well hidden.
We've been told, variously, that the Bushmen are being removed because they need to be "developed" and that development is incompatible with living on a game reserve. We've been told that the Bushmen are no longer living "traditionally" and so no longer legally can claim the right to live there. We've been told that the CKGR is for animals and tourists only, and that the Bushmen are being removed for their own safety. We've been told that the goats they keep, as a back-up food supply because they are not allowed to hunt game year-round as they would have traditionally, expose the CKGR animals to diseases and the landscape to overgrazing. And we've been told that the Bushmen's presence in the CKGR is a threat to the long term well-being of the eco-system.
Each of these rationalizations appears at first to have merit, but all of them collapse under the weight of the tiniest scrutiny. The fact is that these people trace their origins in the land 60,000 + years, and if they did not know how to steward it, they would have disappeared from the face of the earth long before we would ever have had the opportunity to come to know them. And in those limited ways in which they have given up some of their traditions it has only been because the government has forced these changes upon them.
And this, in spite of the fact that the CKGR itself was set aside specifically to protect the Bushmen and their way of life, and in spite of the fact that the Constitution of Botswana protects their right to this land in perpetuity. All these people want is to live in peace and harmony with the land of their ancestors (and if recent DNA studies are true, they are ALL OF OUR ancestors) and not die slowly in despair and squalor in the hideous resettlement camps set aside for them by the government.
They are not asking for mineral rights. They are not asking not to be educated or governed. They are not asking for much at all.
What do the government's actions tell us? The government is currently trying to change its constitution so as to divest these Bushmen of their traditional lands. The government has sent police and wildlife officials into the remaining Kalahari communities to beat, intimidate and harass the last remaining inhabitants. They have closed precious boreholes, separated families, restricted the free movement of the Bushmen and anyone who vocally supports them, and as of last week they have closed the entire CKGR, ostensibly for "administrative" purposes (this is like "closing" Yellowstone!) while simultaneously stepping up the removals, clearly while no one can possibly be watching.
And finally, not long after the removal policy was announced, the government gave away diamond concessions accounting for 2/3 of the CKGR to their oldest partners in that business, including, not surprisingly DeBeers and its Botswanan affiliate Debswana. Whether or not diamonds are at the heart of this issue it is hard to say, but we cannot underestimate the role plain-old, garden-variety racism plays–historically the Bushmen have been reviled by whites as well as by black tribes all over Southern Africa–tortured, traded as slaves and even hunted as animals. As recently as the 60's, one could buy a license to hunt a Bushmen as game!
I came to Botswana because I wanted to listen and learn. I had no intention of coming home an advocate. If I am, it is because the Botswana government turned me into one, and because at a fundamental level I care about the gross unfairness of changing the rules in the middle of the game and removing a constitutional protection for the sake of short term political or financial ends.
Right now, as you sit here and read this, the last of the Bushmen are starting to die, with no food or water, and no ability to call out for help. We are not talking about a large group of people here. But we are talking about a 60,000 year old culture snuffed out willy-nilly, and only because no one cares enough to object.
History of the San People
Introduction
The land rights of the Khwe, the Gana and Gwi of the Central Kalahari Game Range (CKGR) in Botswana were enshrined in that nation's constitution in 1961. Thus this land was set aside for use by these indigenous people before the country became independent. These rights were re-ratified in 1965.
Despite their rights to the CKGR guaranteed in the Botswana Constitution the Khwe San have been evicted from the CKGR. This community of 3,500 people was forcibly relocated in 2002. The government asserts that the residents were "no longer real Bushmen", that they had over-hunted the reserve and abandoned their traditional ways of living, and therefore, had to be moved both for their own good and the good of the reserve ñ this despite the fact that a management report for the CKGR commissioned by the government in 1998 found that biomass there had significantly increased under the Gana and Gwi's stewardship. The report states:
The suggestion that wildlife populations throughout the Kalahari are in a state of terminal decline is not supported by the evidence. There has been a good recovery of wildlife in the CKGR/KGR since the droughts of the 1980s, with significant increases in the numbers of three out of seven major ungulate species, and no significant declines in any species.
In 2002 shortly after the eviction of the San from the CKGR most of this land was ceded to several diamond-mining companies as exploration and mining concessions.
History and Background of the San Situation
For thousands of years, the Khwe or San, popularly known as Bushmen, were the only inhabitants of Southern Africa. These people hunted and gathered wild plants. Much of their ancestral land is now incorporated into the Central Kalahari Game Reserve (CKGR) in Botswana.
In most parts of Southern Africa, the Khwe are not referred to or regarded as "black", and almost all the words used to describe them–Bushman, San, Basarwa–carry pejorative meanings. Culture also plays a key role in the disenfranchisement of the Khwe: they are hunter-gatherer pacifists, while most modern day African tribes are cattle-keepers with a strong warrior heritage.
The first attempts to evict the CKGR residents were halted by the efforts of First Nations Development Institute (FNDI) after it received a request on February 20, 1996, from John Hardbattle of First Peoples of the Kalahari (FPK). Hardbattle himself was responding to a request he received from a traditional Khwe man from the CKGR, who was asking for immediate assistance and legal representation from FPK to stop the removal of the Khwe people from the CKGR. The Khwe sent a report and community testimony on a meeting the Ministry of Local Land, Governments, and Housing (MLLGH) held February 7, 1996, on the CKGR. Patrick Balopi, of MLLGH, notified all the communities within CKGR that they would have to leave the Reserve ìin the interest of the wildlife.î Hardbattle requested that FNDI, provide the overall strategic, legal, and technical assistance to: (1) stop the removal, and (2) secure title to the lands. In response to FPKís urgent request, FNDI developed a two-fold strategy to: (1) use international political and governmental pressure and public opinion to get the removal postponed, and (2) undertake the legal research and facilitate proceedings to secure the land.
Phase 1 of FNDI Strategy
Hardbattle, the Khwe representative and FNDI attended the United Nations High Commission on Racism and Discrimination in Geneva from March 17 through April 10, 1996, to stop the forced removal. Substantial progress was made in gaining international attention and support to prevent the forced removal of the Khwe in the immediate future as evidenced by:
Members of the United States Senate Appropriations and Foreign Relations Committees wrote a letter to the Botswana government expressing their concern about the situation facing the Khwe and urged the government to reconsider any action that would result in their displacement from the CKGR. Meetings continued with members and aides of the Senate Appropriations and Foreign Relations Committees during their trip to the United States in 1996. Tim Reiser, Aide to Senator Leahy, coordinated the meetings.
Parliamentarians from Norway, Denmark, and the EU would be sending a fact-finding mission into the Central Kalahari Game Reserve.
Great Britain's House of Lords introduced the issue before Parliament because they created the Reserve and were concerned about the integrity of their intent. The British High Commissioner in Botswana was asked to head into the Kalahari Desert to meet the threatened Khwe bushmen.
Prince Charles met with Hardbattle and the Khwe representative while they were in London to pledge his support.
A press conference was held in London on April 4th, and articles appeared in The New York Times, The Economist, The Times of London, The Financial Times, The London Guardian, Daily Telegraph, Sunday Telegraph, the Spanish News Agency, and Deutschpresse. Interviews were also conducted on the BBC and Sky TV, and radio shows were broadcast on the BBC World Service, BBC Focus on Africa, and Radio France International.
In May, the then President of Botswana, His Excellency, Sir Ketumile Masire, announced that he would conduct a briefing on the "Basarwa" (Khwe) situation in Washington, D.C. Members of FPK flew to the United States to be present for the President's first official statement about the situation. After requesting a private meeting, FNDI, FPK and an Indigenous representative from the CKGR met with the President and several of his advisors in Washington, D.C. on June 13, 1996. During that meeting, he agreed to begin discussions with the Khwe in Botswana.
President Ketumile Masire conducted a public briefing at the World Wildlife Fund addressing the government's position on "remote area dwellers" (the Khwe and others) and allowed questions from the audience. After his presentation, he acknowledged that the government continually tries to persuade the Khwe to relocate the settlements "for their own good," and for the benefit of all people in Botswana. However, he stated that the government would not forcibly remove them from their homes. The President presented only two options for the Khwe: Option 1 was to remain on their territory with the situation remaining as it was then (limited access to water and food, and the continual "persuasion" to leave); or Option 2, which was to relocate to the settlements designated by the government (which the Khwe call "places of death").
A third option, presented by FNDI and agreed to by the San, was for the Khwe and the government to collaborate to find mutually agreeable ways of managing the CKGR, and to determine culturally appropriate economic development alternatives so the Khwe could continue their environmental management practices that have sustained the land, themselves and the local wildlife for centuries. However, this option was only mentioned and not discussed. In addition, the President stated that it is the government's policy to only compensate the Khwe for the cost of resettlement–there was no compensation made for what they've lost.
Phase 2 of FNDI Strategy
After successfully completing Phase 1 of their strategic plan "to use international political and governmental pressure and public opinion to get the removal of the Khwe postponed", FPK and FNDI moved into Phase 2, "to secure possessor rights to the CKGR for the Khwe". During this effort Hardbattle, the main spokesperson for the Gana and Gwi died. Soon after his death, the first round of evictions began in 1997. However, these evictions caused enough of a human rights outcry in the USA and Britain that the Botswana government soon backed off.
In order to improve the standard of living for the Khwe who lived outside established and/or recognized villages, the government of Botswana introduced the Remote Area Dweller Program (RADP) in 1975. Although it was initially called the Bushman Development Program which more accurately reflected the cultural background of the majority of its clients, the name was later changed to RADP in order to avoid what the Botswana Government anticipated would be a negative reaction to its potential apartheid (separate development) connotations.
Unfortunately, the RADP has not been successful in satisfying the basic objectives articulated by the Khwe people. Despite the influx of large amounts of foreign development aid through programs such as RADP and the Natural Resources Management Project (NRMP), the standard of living of the resident of the CKGR and the surrounding settlements decreased in relative terms.
Officially, the government of Botswana maintained that they were not forcing people to leave the CKGR. According to the government, the provisions of basic social services remain the primary motivation for encouraging residents to move. The government made promises to CKGR residents that they would be provided with cattle, land, and the basic social services if they moved to settlements such as Okwa or Xade, which are located outside the CKGR. Unfortunately, there have been several cases where the promised services and "compensation" has not materialized and those who moved have become destitute and completely dependent upon governmental support for survival.
It is important to also note that in 1997, output of the three diamond operations (Orapa, Jwaneng and Letlhakane) in Botswana represented approximately 50% of DeBeers annual profit, making the Republic of Botswana a model of modern economic success. In contrast, the original inhabitants of the territory, the Khwe, were said to be the "poorest of the poor", mostly living in extreme poverty, lacking land tenure and dependent upon the State.
In 2000, the remaining CKGR residents had their special game licenses (i.e. household hunting licenses) revoked ñ several cases of beating and the torture of hunters at the hands of wildlife officials were reported and testimonies taken, but no investigation followed. In 2001, intimidation tactics were stepped up and finally in 2002, boreholes in the CKGR villages were filled in, villagers were loaded onto trucks and were later deposited in three resettlement camps. A few months later two-thirds of the reserve was leased to De Beers, Debswana and BHP Billiton (all mining companies) for diamond exploration. Both the Botswana government and mining companies assert that there was no connection between the CKGR removals and diamond mining.
Immediately after their eviction, the Gana and Gwi under the aegis of FPK, took the government to court, asserting that the removals had been illegal as the peoplesí rights to reside, hunt, gather, graze and use water inside the CKGR had twice been ratified by the government itself. The case was thrown out on a technicality and FPK could not raise sufficient funds to bring the case back to court until 2004. To date it is reported that approximately 250-300 Khwe are still living in the CKGR.
Current History and The Indigenous Land Rights Fund
In January 2005, the IFC sent an Ombudsman to conduct their own investigate of the situation faced by the Khwe in the CKGR. We are still awaiting the IFC Ombudsman report to be completed or released.
In June 2005, seven hunters were picked up by the wildlife authorities, beaten severely about the genitals and had gasoline poured into their anuses.† These abuses have been going on unchecked for over three years now. Moreover the community appears to be dying at an unsustainable rate. Of the 242 Bushmen, out of a total population of about 3,000 who signed the land claim currently in the Botswana courts, at least 10% have died. The death rate appears to be accelerating. Meanwhile the government claims that it will never allow them to go home and that they will 'perish like the dodo' should they not follow the plans to mainstream them. The irony seems to be that, with no choice but to sit in the camps as the government dictates, they are perishing anyway.
The Botswana government is considering a change in the nation's Constitution that would legalize the taking of the CKGR and the expulsion of the San. Urgent action is required to stop this process and facilitate the return of the San to their ancestral lands in the Kalahari.
The Indigenous Land Rights Fund (ILRF) has undertaken numerous legal actions on behalf of the Gana and Gwi. The ILRF grew out of a long established organization – the Kalahari Peoples' Fund (KPF), a 30 year old non-profit. As the need for more intensive advocacy in the matter of land claims became clear, it was deemed prudent to set up a U.S. based sister organization to deal with the land rights issue separately, so as not to endanger KPF's existing humanitarian projects within Botswana. The Indigenous Land Rights Fund (ILRF) exists to help displaced or soon-to-be displaced indigenous communities gain secure tenure of their ancestral land. The organization works through courts on the ground, through the international courts, through direct lobbying of government both in the USA and in the home country, through lobbying of corporations, and through mediation. They take a multi-faceted approach to each case, making sure that all avenues are thoroughly explored, so as to bring about the best result in the shortest possible time. The ILRF is a young organization, founded in 2004 but based on founder Rupert Isaacson's ten years experience fighting for bushman land rights in Southern Africa. In the short year ILRF has been in existence it has moved so fast and so effectively and has accomplished the following on behalf of the Gana and Gwi:
•A direct land claim case on the ground in Botswana, disputing the legality of the evictions and asking that the Bushmens' rights to dwell, hunt, gather, take water and graze within the CKGR be restored to them. ILRF is working closely with
another indigenous rights group, Survival International, on this case.
•A case to be brought before the African Commission on Human Rights, asking that the organization pressure the African Union to pressure the Botswana government to allow the Gana and Gwi to return to their ancestral homeland, and to cease keeping them in resettlement camps where death rates are becoming unsustainable.
•A case of illegal eviction and cultural genocide to be brought before the International Criminal Court (ICC).
•ILRF works to coordinate pro-bono legal and technical support. Such as the Public International Law and Policy Group (PILPG), and with law school human rights clinics such as the Human Rights Clinic at American University Law School and the Rappaport Center at University of Texas. They also have extensive contact networks at the UN (ILRI has official observer status there under the wing of the International League for Human Rights), U.S. State Department, IFC and World Bank, Congressional Human Rights Caucus and other relevant groups. Partner organizations include Survival International, Kalahari Peoples' Fund, Physicians for Human Rights, the Bank Information Center, the First Nations Development Institute, and the International League for Human Rights. ILRF is currently seeking more pro-bono legal aid to help it fight for the land rights of the San.
In addition, ILRF has launched an investigation of ethics breaking within the International Finance Corporation (IFC), who have partially financed the operations of one of the mining companies involved in the illegally vacated land. In addition, ILRF offers mediation to the Botswana government – via the UN, U.S. State Department and through a team of 11 U.S. Senators – for a settlement to be made out of court, for the Gana and Gwi's existing rights to the CKGR to be upheld and the people allowed to return home and make their own negotiations with the mining companies involved.
All the Bushmen want is the right to go home to the CKGR. They are not saying to the government 'don't mine'. They are not asking for mineral rights.
Timing is critical for powerful legal and public pressure to be exerted immediately on the Botswana government as they consider changing the Botswana constitution to ìlegalizeî the eviction of the Khwe San from their ancestral lands.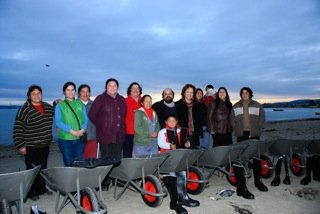 Centro: Jessie
I went to Nicaragua with Kathy Goldman and members of the Jessie Cagan family to be present at the opening of a feeding center that Jessie has supported in her work with sister city Tipitapa. They were naming the center Centro Jessie. What is a feeding center? This is what I learned.
Children in Nicaragua get a school lunch. But the children not old enough for school do not have this meal. So a group of mothers got together and decided to feed the little ones. They would do it out of their homes and offer a meal to children in the neighborhood. The need was overwhelming. Soon, the women in 5 different houses were feeding 50 some children each.
Jessie Cagan, a long time activist in NYC, along with others established a sister city relationship with Tipitapa. Over the years, money has been raised and finally, these women with their husbands, daughters, sons, brothers and parents have built a feeding center. Although Jessie did not live to see the completion of the center, we went to celebrate the opening. I joined the Cagan family, Jessie's best friend Kathy Goldman, and several solidarity activists to be part of the opening ceremony of this center in Tipitapa.
We learned that they are already working to build a second center. They have purchased the land and are raising money to break ground. We also learned that although the first center was completed, they did not have the money to buy a stove.
In addition to meeting with the mothers and the teachers of the child care center, I organized a field trip in to Managua to hear my old friend Luis Enrigue Mejia Godoy sing at a club he manages with his brother Carols. These two men have been central to development of "nueva cancion" or new song during the cultural blossoming that took place during the revolution in Nicaragua. It was lovely to hear his music and he did an honoring of me, Pete Seeger, Jackson Browne and other US artists. He said we, by example, had given the Nicaraguans the courage to develop music that was not only part of the Nicaragaugua tradition of poetry but stepped up to be part of the activism for peace and justice around the world. This was a very moving moment for in truth, the Nicaraguan artists were a great inspiration to me.
I also had a chance to visit with Katia Cardinal, one of Duo Guardabaranco. It was lovely to see her again and meet her children as well as some of the young artists coming up in Nicaragua. They all sang for me. Many years ago, Jackson Browne had produced a recording by Guarabaranco which the company I founded, Redwood Records, distributed in the eighties so Catia and I have history. We are all still grieving the passing of Salvador, Katia's brother and the other part of Duo Guarabaranco. He passed away recently.
When I returned to the US, I mentioned Centro Jessie at a few concerts, in particular in NYC where a lot of Jessie's friends were in the audience. We raised enough money to buy the stove!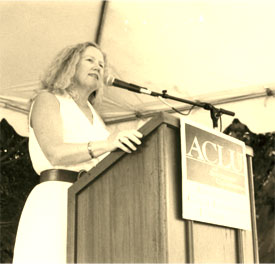 Honors & Awards
Holly has received numerous awards for her work for social change, including these honors from the following organizations.
2008: Impact Fund, San Francisco (May)
2007: Key to the City of Chico (March)
2005: City Council of Oakland: Congratulating Holly Near for nomination as one of the "1000 Women for the Nobel Peace Prize
2002: Women of Voice and Vision, Scripps College, celebrating 75th Anniversary (Feb. 28)
2001: Jeanine C Rae Culture Award For the Advancement of Women's Culture; Women in the Arts, Inc., Indiana
2000: The Legends of Women's Music Award (Lesbians of Achievement, Vision, and Action)
1999: Ukiah High School Alumni Association Distinguished Graduate Class of 1967 (June 19)
1997: NARAS Governor's Award to Redwood Records—"For your outstanding contributions to the cultural fabric of our community. Your vision and struggle to crate a better world has enriched all our lives."
1996: Gala Choruses Legacy Award in recognition of unique contributions to the Lesbian and Gay Choral Movement
1994: Los Angeles Commission on Assaults Against Women (LACAAW) Humanitarian Award
1994: American Civil Liberties Union of Southern California celebrates Freedom of Information "…by honoring Holly Near for the tremendous commitment you have shown toward fighting for equality and and justice for others."
1993: Bay Area Theater Critics Circle, Outstanding Achievement Award, for "Fire in the Rain, Singer in the Storm"
1993: Naird Indie Award—Honorable Mention to Redwood Records for "Musical Highlights" from the Play "Fire in the Rain" in the category of Soundtrack/Cast Recording
1993: Unity Award, The National Conference Fairfield Region
1991: "Hot Wire" Readers' Choice Award Near for outstanding contributions to Women's Music and Culture
1989: World College West, honorary Doctor of Humane Letters
1989: July 7 declared Holly Near Day by Art Agnos, Mayor of San Francisco
1989: Indie Award in the category of Women's Music for "Sky Dances"
1988: Cable Car Awards: Outstanding achievement by a recording artist, "Don't Hold Back"
1987: Southern California Women For Understanding presents Lesbian Rights Award to Holly Near, Pioneer in Women's Music
1987: National March on Washington for Lesbian and Gay Rights, Award of Distinction
1987: California Senate Lesbian Rights Award
1987: Sixth Annual Woman's Building (San Francisco) Vesta Award
1986: City and County of San Francisco Certificate of Honor
1986: The Women's Foundation "Woman of Note" for Outstanding Achievements in Music (Nov. 2)
1985: Biko-Rodney-Malcolm Coalition for Holly Near's principled stand against racism
1984: Cable Car Award: Outstanding achievement by a recording artist, "Journeys"
1984: Key to the City of Fresno
1984: LACAAW Humanitarian Award
1984: Naird Indie Award for "Lifeline", a recording with Ronnie Gilbert
1983: City and County of San Francisco Certificate of Honor
1983: Detroit City Council Testimonial Resolution honoring Holly Near
1979: Bammie (Bay Area Music Award ) Best Independent Label Album, "Imagine My Surprise"
1967: Bank of America Achievement Award to Holly Near in the field of Fine Arts (May 19)
Holly also received honors from the following but we don't have the details. Do you?
The National Lawyers Guild
The National Organization for Women
BAM Magazine Lesbian Rights Award
Among her other recognitions, a racehorse, "Ms. Holly Near," was named after her!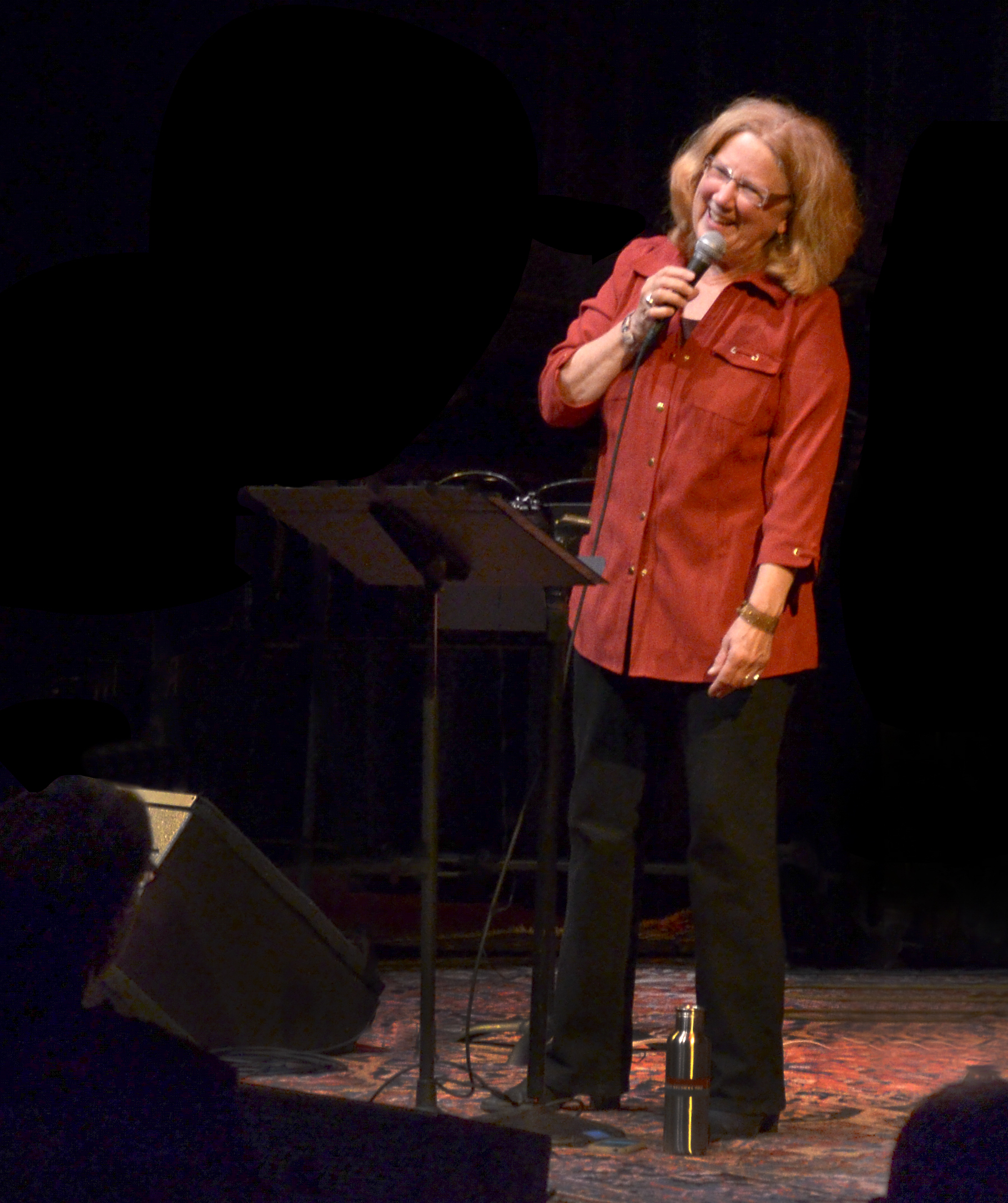 Watch & Listen
Holly has performed before thousands of audiences and given thousands of interviews. Here, you'll find some of her appearances over the years.
"I Ain't Afraid" performed at Freight and Salvage in Berkeley CA
https://www.facebook.com/watch/?v=265846311171677
Holly sings with the SFGMC
https://publictheater.org/productions/joes-pub/2020/h/holly-near/
Holly talks with social change activist Jamie McLeod-Skinner
https://www.youtube.com/watch?v=Y_0x8hsuVxU
Singing For Our Lives American Masters preview
https://www.pbs.org/video/holly-near-singing-our-lives-trailer-z05qab/
Holly talks with SFGayMen'sChorus director Tim Seelig, 2020
Holly talks with Irwin Keller at Her Shalom, Cotati CA, 2020
https://www.youtube.com/watch?v=pdJ0r0Tyiik
Holly speaks to Oakmont Rainbow Women, 2019
https://www.youtube.com/watch?v=FzTz76lyJmw
Holly and the story behind the anthem Singing For Our Lives, 2019

Holly remembers Michael Callan at the Purple Heart at Joe's Pub, NY, 2019
https://www.youtube.com/watch?v=9eWOSg25Y8o
Holly sings with Anna Crusis Women's Choir, 2017
https://www.youtube.com/watch?v=A6VIEYLZJwA
Holly in Chile during a workshop with Chilean women musicians, 2017
https://www.youtube.com/watch?v=HGtjwb8HyP8
Holly sings at Peace Conference 2016, 50th Anniversary of the first national demonstration to stop War against Vietnam in Washington, DC
https://www.youtube.com/watch?v=tuVN52g22rU
and
https://www.youtube.com/watch?v=7uePgFy-jvI&t=4s
Holly presents and sings Planet Called Home, at Bioneers Conference, San Rafael, CA,  2003
https://www.youtube.com/watch?v=AISD0cupGBY
Holly sings Hattie and Mattie with emma's revolution, 2014
https://www.youtube.com/watch?v=vivNi9p9-vA
Holly at concert at Neighborhood Church in Pasadena CA, 2013
https://www.youtube.com/watch?v=cJDfs7ioL00
Holly with Roy Zimmerman, 2010
https://www.youtube.com/watch?v=UsWAXvfN3eY
Holly at the Moscone/Milk Memorial, San Francisco with San Francisco Gay Men's Chorus, 2008
https://www.youtube.com/watch?v=LbXq0oU5osg&t=138s
Holly leads Sing Out the Vote Ohio tour with all the SOTV singers, Tremont neighborhood, Cleveland, 2008
https://www.youtube.com/watch?v=BzCdGfIUt_M
Holly with emma's revolution at an event protesting the horrors perpetuated at the School of the Americas, 2008
https://www.youtube.com/watch?v=GEJx8cYnUuE
Holly with Ronnie Gilbert, 1980?; this is an excerpt from Wasn't That A Time, a film about The Weavers
https://www.youtube.com/watch?v=i9Up7ozplwI
Holly with Jeff Langley recorded in 1976 in Pittsburgh PA
historic footage with ok sound
https://www.youtube.com/watch?v=wfNXhtvOMUk&t=1327s
Interview with Holly by Jodi Moran, Veteran Feminists of America
https://veteranfeministsofamerica.org/vfa-pioneer-histories-project-holly-near/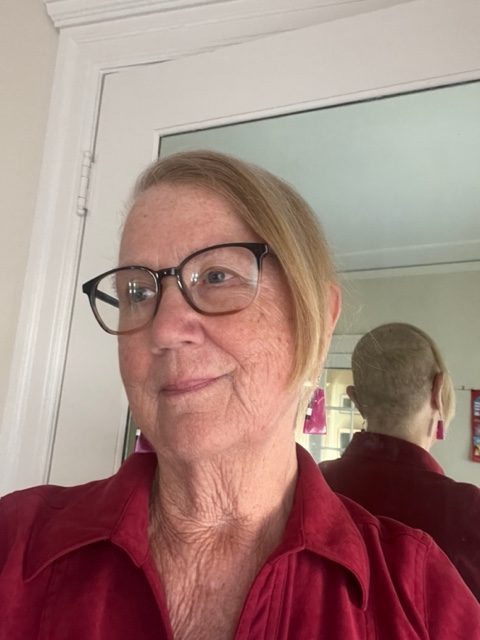 This has been quite the year for me personally.  It started out well.  I decided to experience the four seasons of the northeast. Summer was delightful.  I love the rain that just shows up and then is gone. The thunder storms.  The unfamiliar humidity, me being a west coast creature. I even got chased by a hurricane. I was heading for the Cape when friends called me on my cell and said, "turn around!"  I did but I had no destination now other than to keep away from the hurricane . My friend Pat sat at his computer out in California and directed me. Go north. Now go west. Now go north again. Leading me out of the path of the hurricane. I ended up at the Canadian border at a charming camp and cabin site looking over Lake Champlain. I decided to stay for a few days.
Then it was time to head to my accommodations for fall and winter. I had rented a house in the country—a town called Sheffield in southern Massachusetts. It belonged to my friend Betsy who lives mostly in NYC. Fall was glorious from my porch without moving an inch, or from the car as I took drives up into the mountains to see the colors even more vivid.  Then I settled in for winter, developing a morning relationship with the birds that did not migrate but visited the bird feeder which I happily kept filled with seeds and such. Me with my coffee.  Happy with such simple things.
I loved watching the snow fall, the icicles freeze on the branches as if caught right in the middle of a thought, a dance. Stunning art that would disappear with a strong wind or the rise of temperature. On an afternoon that cleared, I chose this opportunity to go to the market and replenish the shelves and refrigerator in anticipation of the next storm. As I walked down the steps of the deck en route to my car I entered what I can only describe as an old movie where the actor steps on a banana peel and leading with the feet does the perfect pratfall in slow motion
I lay there for a moment acclimating to my new situation — flat out on the ice, looking up at the sky. Hmmm. Once I realized I had fallen, I slowly made contact with my body, starting with my feet. Feet, check. Legs,  check. Hands, check. Arm -ouuuuuuuch!   Ok then. We have a problem. My right arm and shoulder were unwilling to move and when I tried, I felt excruciating pain.  OK. Well, that was informative. I lay still looking at the sky again. I needed to call for help.  Help! A small voice could be heard coming from inside my body.  I almost laughed at the absurdity.  There was no one around. Even a louder attempt would have been rendered useless. Maybe the UPS driver would come to deliver something, or the postal worker. But I couldn't count on it.  Cell phone.
My cell phone was safely tucked in my shoulder bag which I had unintentionally hurled as I fell. It was not within reach.
My imagination took over as I wondered,  how long does it take to die from lying on ice in the cold? Is it painful or does one just get dreamy?  After being in war zones, what a meaningless way to die. The warrior brain kicked in and said, "You will pull yourself screaming to the roadside before you let yourself die passive on the ice. Even if you can only pull one inch at a time. You have about 3 hours to get there before it gets dark. No, silly, you only need to crawl to your shoulder bag, to your cell phone. Not all the way to the road. That is only a five-foot crawl. Still, at an inch at a time, that could take a while.
The cold was seeping through my wool coat.  My hands were cold. I had not put on gloves inside the house as I learned most New Englanders do.  I put my hands in my coat pocket to warm them up. CELL PHONE!  Not in my shoulder bag but in my pocket. I can tell you now, that moment ranks very high in the best moments of my life. I called 911. What is most amazing is I actually could remember the address. Not being my house, I could easily have lost track of those numbers.
I then called my friend Donna who picked up on the first ring.  My luck was really changing. I told her what had happened. We laughed, commiserated and Donna stayed on the line with me until the first responder arrived. Turned out to be a policeman. Nice fellow—couldn't really see him since I couldn't turn my head, but he had a nice soothing voice and told me the ambulance was on the way. And here they came. I heard the siren.
They began working quickly but with some obstacles. Mainly ice. They didn't want to put me on the gurney only to slip themselves and drop me in the process. I remembered that there was salt just inside the door.  A woman's voice said she would go get it. Soon I was in the ambulance. No one had fallen. A man was apologizing for needing to cut my wool coat to get to my arm and shoulder. And then the "she" who got the salt was driving. Every country road bump registered pain.  He assured me that he had something to help with that. Just needed to get an IV into my arm. And then —a  warmth spread over me as the pain receded. I told him I would give him my first born in appreciation, but I didn't have children and that I was 72 so I doubted there would be a first born in my future.
Turns out I had a broken arm and dislocated shoulder. I couldn't get in the surgery schedule for a week, so they put me in a sling and my friends Andrea and Georgianne took care of me for the week at their home in Pelham.  I spent lots of that week, sitting, resting, managing the pain with drugs that also diminished my mind but that was ok. Amazing how one can actually get interested in the sport Curling when the brain is slowed down. I think the winter Olympics were on TV.
Then there was surgery.  Betsy and a mutual friend Susan came to take care of me for a week back at the Sheffield house. I must pause here and reflect. I am so lucky to have friends. I live alone but I am not alone. I am not partnered but I have partners in life. And I have paid forward, if that is the term, to my friends without a thought of reciprocity. And yet here it was.
Once Betsy and Susan went home, I realized that it was too dangerous for me to stay the rest of winter and into spring on my own, the house still surrounded by ice.  Betsy's brother generously got me to doctor appointments and brought groceries. But it was time to go home. My friends Tess and Claudia found an available apartment near them in Oakland. I flew back to California.
The arm and shoulder were healing nicely.  Physical therapy was painful but I'm making progress. I decided since I was pretty much grounded for a while, I may as well get that overdue colonoscopy.
Jumping back to 2014, I went to get a bone scan and my doctor said that even though it was a little early, may as well get the mammogram out of the way at the same time. They found breast cancer. Early detection! So here I was again, going for one test and discovering something else. The colonoscopy did not reveal any problems in my colon but discovered I had a rare form of anal cancer. Squamous cell carcinoma. It would be easy if doctor could just scrape it off but it has invasive roots.  The good news is that it is treatable, curable, survivable. My breast cancer oncologist recommended I go to UCSF as they specialized in anal cancer treatment.
When I heard the diagnosis, I was a little started. Anal sex had never been a big part of my sex life. I asked my doctors about this. Well, turns out I had the HPV  virus which is a sexually transmitted virus that can pass between any people who have had sex. The cells can remain dormant for decades. Apparently, my little cells had been dormant, living in my anus but not having much to do with sexual practice.  Oh sigh.
The treatment recommended was radiation and a dose of chemo to make cells more likely to respond to radiation.  A five week run was prescribed. Radiation five times a week for five weeks. Chemo on week one and week five. I went in daily for the radiation but on the chemo weeks, they gave me a PICC – Peripherally inserted central catheter . A PICC is a thin, flexible tube that is inserted into a vein in the upper arm and guided (threaded) into a large vein above the right side of the heart called the superior vena cava. It is used to give intravenous fluids, blood transfusions, chemotherapy, and other drugs. I carried it around with me.
The doctors gave me a full blast treatment because they only have one shot at it. They can never radiate this part of my body again. It brought me to my knees. Anal pain, mouth sores, vaginal sores, enflamed vulva.
And in the middle of the treatment, apparently unrelated, I had a small stroke.  I found myself on the phone with my niece and then her mom Krissy.  Not sure how that happened but I was talking without forming words. Krissy said, "Holly you are having a stroke. Call 911".  Ok. I knew how to do that.  Someone called my friends up the street, one of whom came to the house and waited with me until the first responders arrive.  Dang. Twice in one year. I tried to explain to the very tall Nordic looking fireman, who arrive first, what was going on but although I knew what I wanted to say, the words just wouldn't form in any understandable order. But he got the picture. This woman is going to the hospital. I managed to convey Alta Bates, not Kaiser.
I was there for a day or so where it seems I got every conceivable test and spoke with someone from every imaginable department. Then once home, the family kicked in and did round the clock care until I past the danger zone of having another more massive stroke. The doctors ordered a heart monitor for 30 days so they could see if there were any abnormalities. Apparently not. But my heart got radiation during my first bout cancer in 2014, so I must now consciously maintain a healthy heart. I don't recall anyone telling me that at the time. I didn't have chemo for the breast cancer, but I did have three weeks of radiation so most likely have osteoporosis. And now, with this anal cancer, my pelvic bone was going to get hit hard.
Clumps of hair started falling out. It was in my food, my face, my bed, on my clothes. Once there was hardly any left except for strands of hair that looked like they had been electrified, I  got a buzz cut.
OK, I'm ready for some good news. I am, as of this writing, cancer free.  It is gone. It will be many months to recover psychologically since the brain has been on danger danger alert with regards to the treatment. PTSD is not unusual. The doctors say I have about a year of recovery/healing in front of me before I return to my old self.  But that is not true. I will never return to my old self. That year is gone. It took its toll. I weakened and I aged.  I turned gray. I lost muscle. The job now is to heal my spirit and accept the new me.  This may not be how I imagined my 73rd year to be, but this is what it is and best to work with reality
I'm healing. I'm getting stronger.  I'm walking with my friend Tess every day. I'm writing. And I am grateful to all my years of warrior training in social change movements (activist are laughing) that made me tough enough to make it through this ordeal. Onward and upward. Oh wait, not yet. My right hip has gone into spasm.  Recent MRI shows fractures in my pelvis because of heavy radiation treatment.  Inflammation is causing the pain in hip and thighs. I can't put pelvic bone in a cast!  Just must heal on its own.  H
P.S. My dad died when he was my age. Aneurism. My mother died when she was in her late eighties. So, this is the magical mystery tour section of life as far as I see it. We don't know when, how, why, where, with whom.  It just will.
Creative Response: How we define success and failure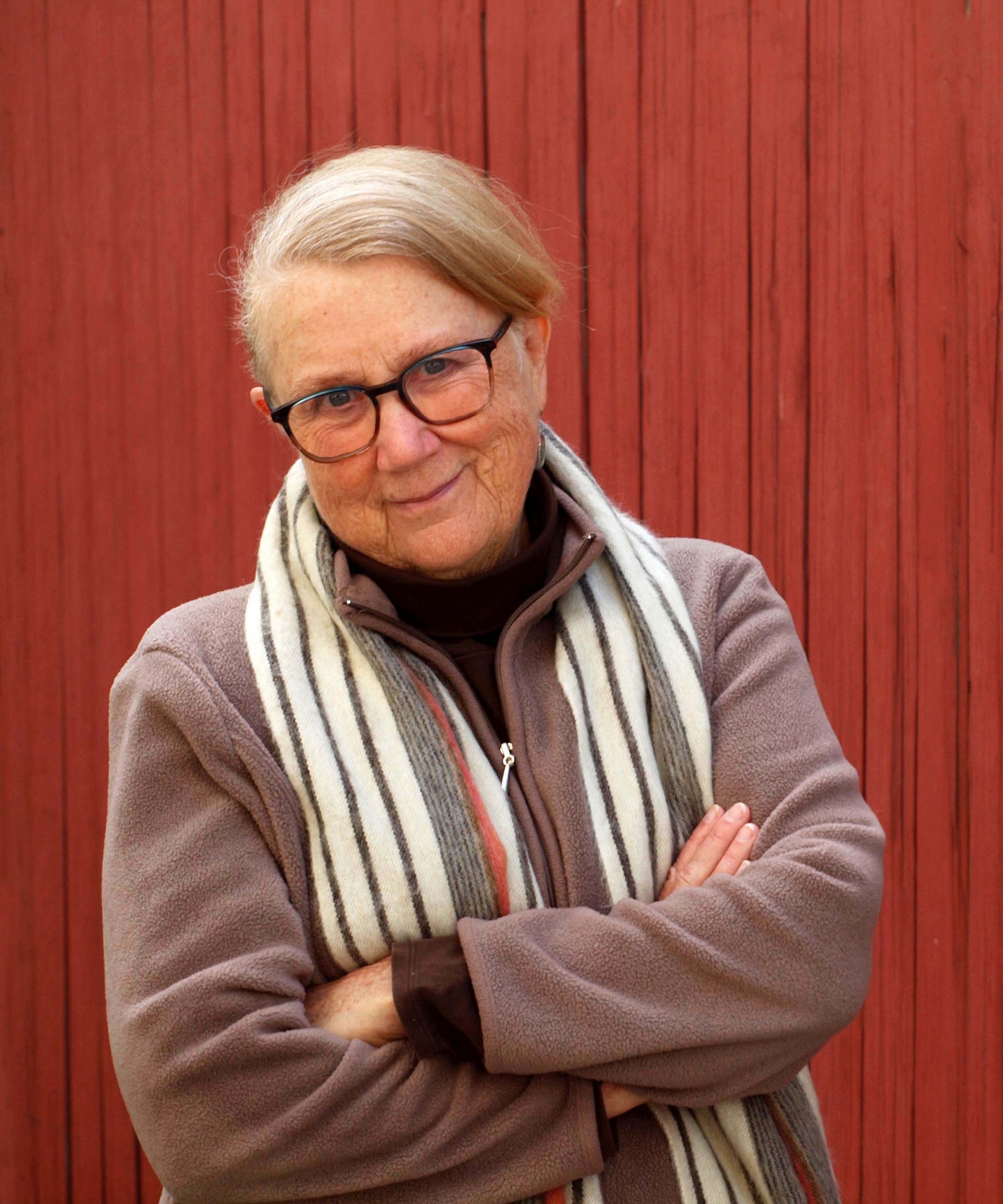 "It is no small thing to change one's self." says my friend Lana as we continued our conversation about social change, one we pick up where we left off several months before.  I am struck by how genuine and true she speaks this idea.  It wakes me up to my own changes over the last half century plus. What if we remembered these changes as achievements just as some people display their awards or the Jeter homerun baseball they caught that summer in Yonkers.  I can more easily rattle off my failures but why return to the easy stuff? The challenge is to remember one's best self which is often attached to the recovery from a failure; a skidding car that did not take her over the cliff because of rapid response; a grandfather holding a crying baby, rocked for what seemed like hours without losing his quiet calm; a patience drawn from an unknown source as they made it through a coalition meeting that included activists from the Socialist Worker's Party,  the ACLU, Black Lives Matter, Marriage Equality, International Indigenous forum and teenage environmentalists. These are no small moments, and they are a big part of how we change ourselves.
I saw a desperate mother at a payphone in NYC, sitting on the curb, her baby in a pram crying. They were both stressed. The call was clearly not going well. The drugs or the money or the help or the bail, or the good news was not forthcoming. It got my attention. I paused. And then all my skill and confidence drained out of me.  I could not connect with a creative response. Yes, good that I felt heartbreak and compassion, but I look back at that moment as a failure.  And yet, I have reviewed that moment dozens of times rehearsing a different outcome where I go into the market and buy baby food and something for the mom to eat and a pack of clean diapers and handi-wipes.  I look after the baby so mom can finish the phone call. I sing to the baby. And then I have reviewed her many responses to my imagined action where she ignores me, hands me the baby and runs off, grabs her baby and runs off,  hits me in the face and tells me to fuck off and mind my own business, falls apart defeated. And what about the baby? What if I had been less grandiose and simply brough the baby something to eat.  And I keep thinking this moment was a failure because I didn't do anything. I failed.
Still, clearly, I'm changed.  And that doesn't usually fall into the failure column. Maybe I will buy a few baby food pouches of sweet potato and spinach to carry in my purse, for next time, just in case.